DO NOT USE THIS WEBSITE IF YOU SUSPECT YOUR COMPUTER IS BEING MONITORED.
Find a safe way to use the internet by accessing a safe computer. Even if you take cautionary steps such as using an email that your abuser cannot access or deleting stored information from your web browser, your abuser may be able to see what web sites you have been visiting and emails you have been sending.
The Official Hope Center Blog
Give to the Max Day Is Coming!!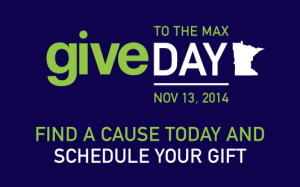 Are you ready?
The 6th Annual Give to the Max Day is coming!
Avoid the GTMD rush, you can schedule your donation early so you know you won't forget!
https://givemn.org/organization/Hope-Center-15
This entry was posted in
Fundraising
,
GTMD
. Bookmark the
permalink
.